Unforgiveable Blog Tour: Review
Can I get a Hell Yeah?
It's my stop on Mike Thomas' Unforgiveable blog tour! Woohoo!  My thanks to Emily Burns of Bonnier Zaffre and Netgalley for an ARC of this book.  So enough of the chit chat- let's find out more about the author and this book!
About The Author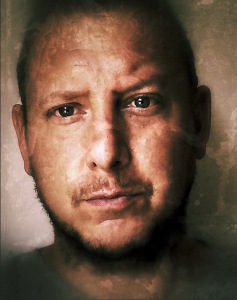 Mike Thomas was born in 1971 in the Welsh town of Caerphilly, famed for being the birthplace of comedian Tommy Cooper, its 'deliciously' salty cheese, and its castle with a tower which allegedly leans at a sharper angle than the more celebrated one in Pisa.
His teenage years were spent breakdancing, spraying graffiti around the town's walls and office blocks and just about staying on the right side of the law, until his early twenties when, inexplicably, he joined the local constabulary and began locking people up for spraying graffiti around the town's walls and office blocks.
While working as a plod in Wales' capital city of Cardiff, Thomas continued with his childhood passion: writing. As a freelance he produced articles for local newspapers, various websites and national travel magazines, while in 2007 he was one of the winners in the annual Rhys Davies Short Story Competition organised by Literature Wales. After completing a Master's degree in Creative Writing at the University of Wales between 2007 and 2009, Thomas published his debut novel, Pocket Notebook, in 2010 with William Heinemann/Penguin Random House.
The author was on the prestigious list of Waterstones' 'New Voices' for that year, while Pocket Notebook was longlisted for the Wales Book of the Year and optioned for television by Carnival Films, the producers of Downton Abbey. His second novel, Ugly Bus, was released by Heinemann in 2014 and is currently in development as a six part television series with the BBC. Both novels deal with the uglier side of policing.
Thomas left the police in the spring of 2015 and grew his hair and a pathetic attempt at a beard. He currently lives in the wilds of Portugal with his wife and children. Alongside chopping wood, cementing crumbling house walls and trying to find somewhere that sells his beloved Marmite, he continues to write articles and web pieces for a variety of sites and publications, and is contracted to London's Bonnier Publishing for three new novels, the first of which – Ash and Bones – was released August 2016. The second in the series, Unforgivable, is due for publication in the summer of 2017.